Portfolio with about 400 types of foams
We produce a large variety of polyurethane foams, flexible or rigid, with specific weight from 14 kg/m³ to 200 kg/m³, with low or high resilience, low (hyper soft and soft) up to high support, with or without flame retarding features.
Additionally, we offer other exclusive features to meet technical and specific market applications, such as production of PU agglomerate (or recycled) foams, with densities reaching up to 230 kg/m³.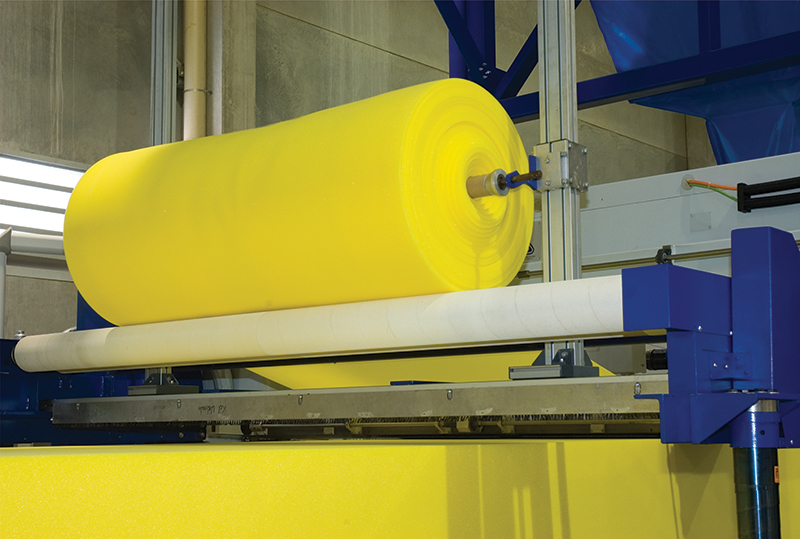 Lathed polyurethane foam
Continuous rolled laminated foam blocks produced in high-precision lathes.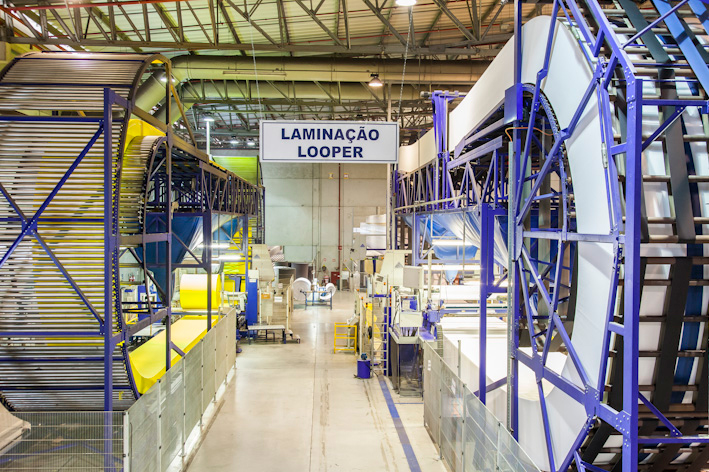 Laminated polyurethane foam
Cutting of PU foam blocks with blade dimensions set regarding the dimensions defined by each client.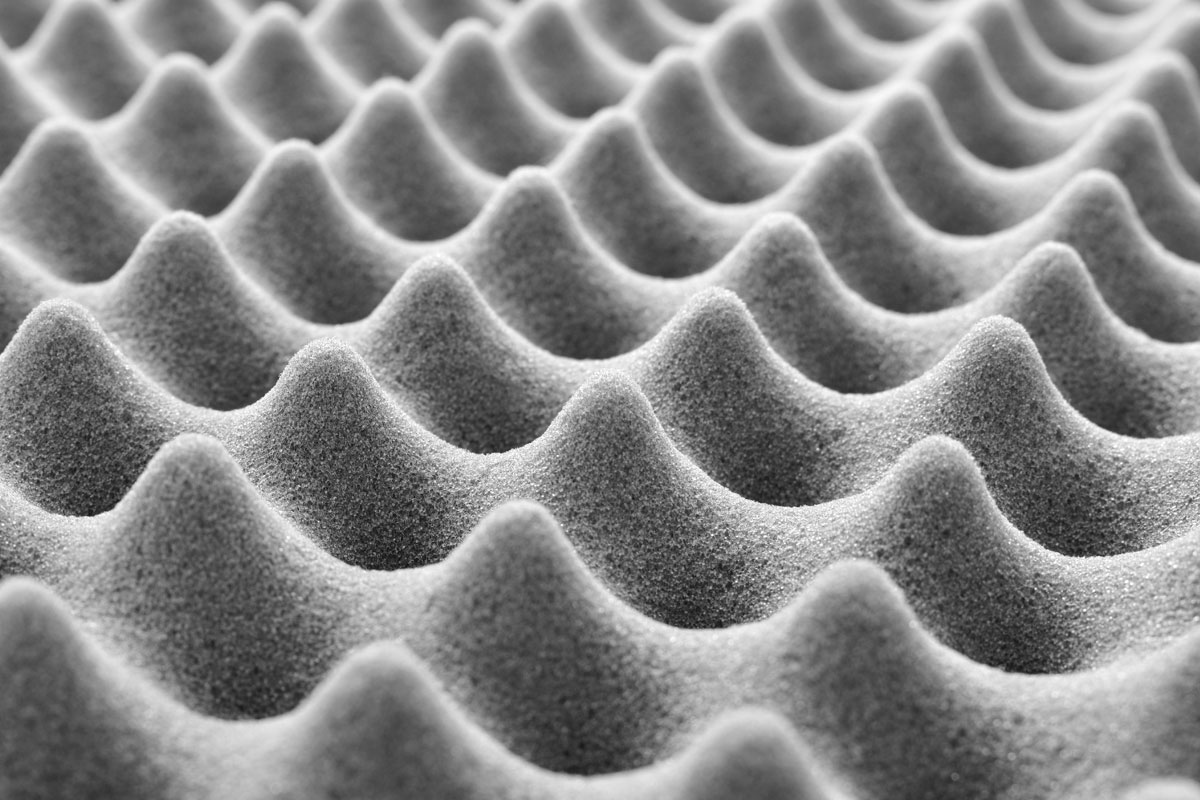 Profiled polyurethane foams
Corrugated plates and laminates, with appropriate frontal cutting for applications in acoustic insulation from the environment, for hospitals and sundry packagings.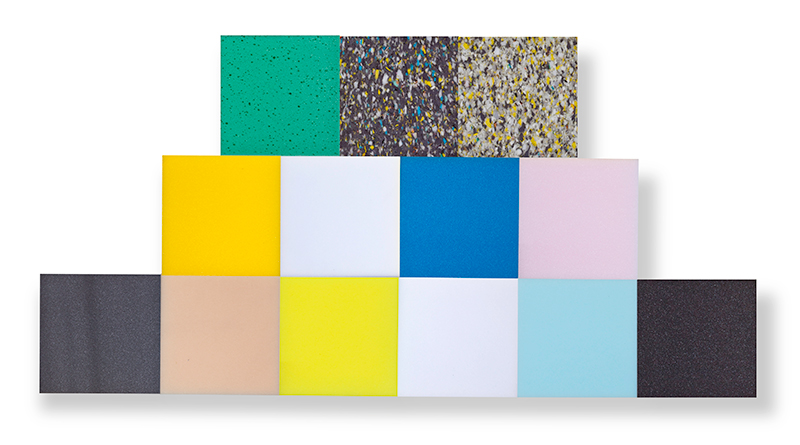 Polyurethane
Polyurethane foam with client-defined configurations regarding length, width and height, for the most diverse purposes.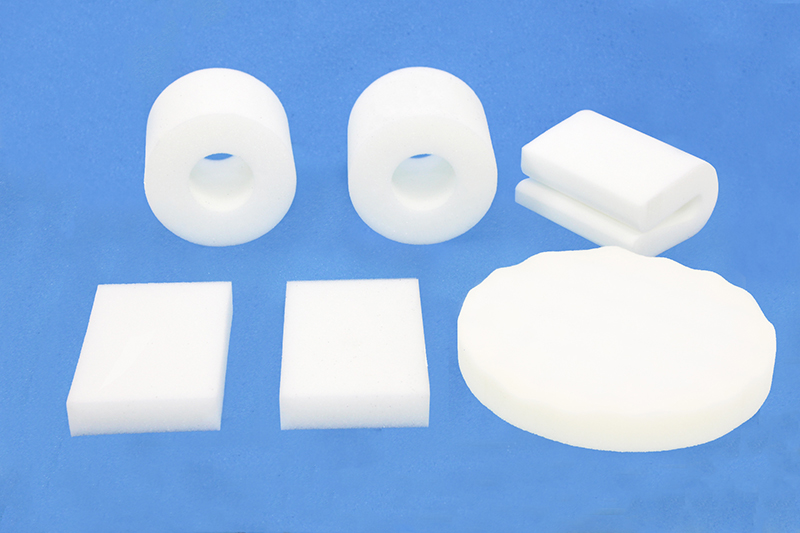 Irregular polyurethane foam pieces
Polyurethane foam configuration is defined in a drawing or other device.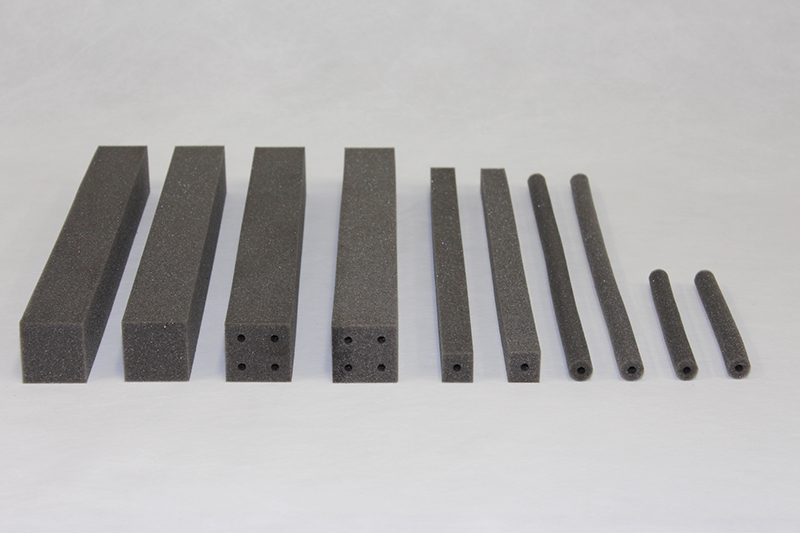 Cylindrical pieces
Tubular format foams, with a same piece subject to be the result of combination of two or more manufacturing processes.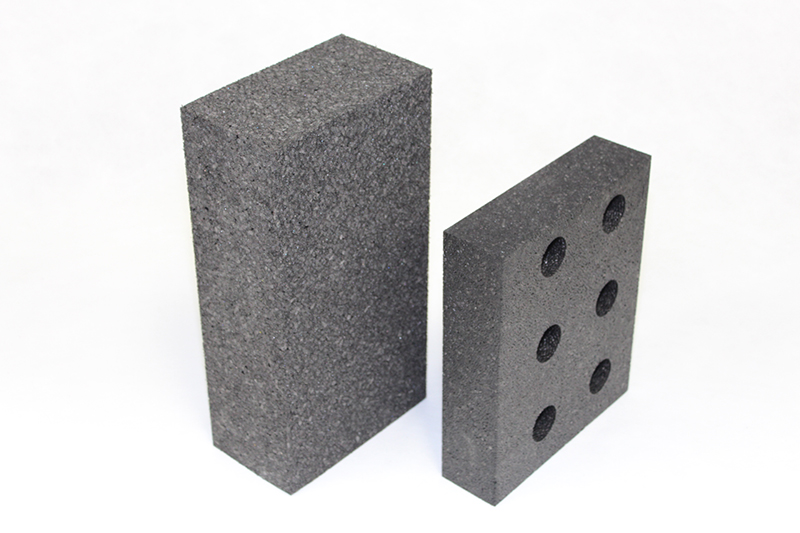 injected and expanded polypropylene blocks
Polypropylene (EPP) expanded blocks for production of rectangular blocks, ideal for lamination operations for production of spacers, packaging chocks, shock absorbing plates, etc.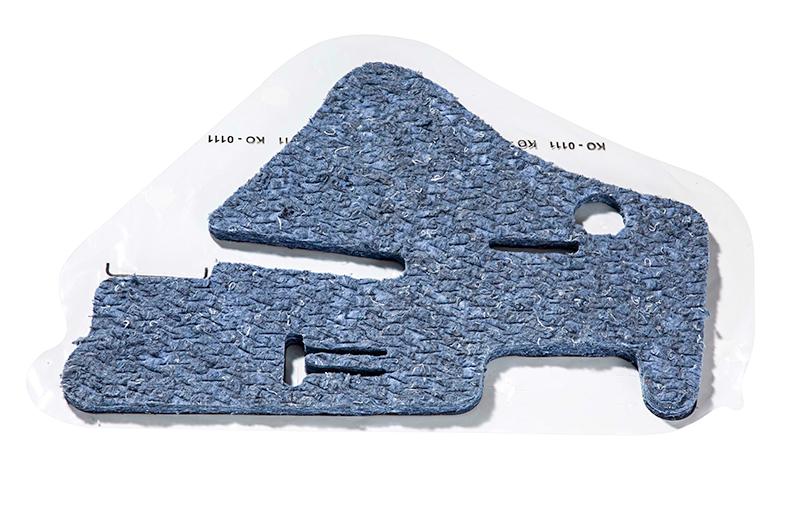 Technical pieces molded in expanded polypropylene
Pieces to be employed as protectors, tool cases, antinoise devices, sealings, spacers, shock absorbers, chocks, etc., with formats defined by a drawing and subject to be obtained by injection molding.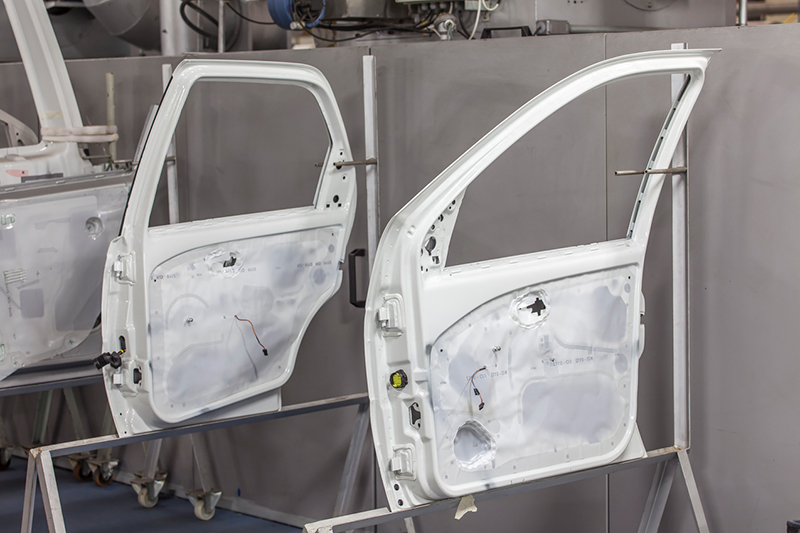 Films for sealing of automobile doors
Coatings produced in high performance adhesive polyethylene films, added with the Kontour® technology, that allows the piece to mold itself to the internal contours where it is applied. Ideal for automobile door sealing as a barrier for water and dust penetration.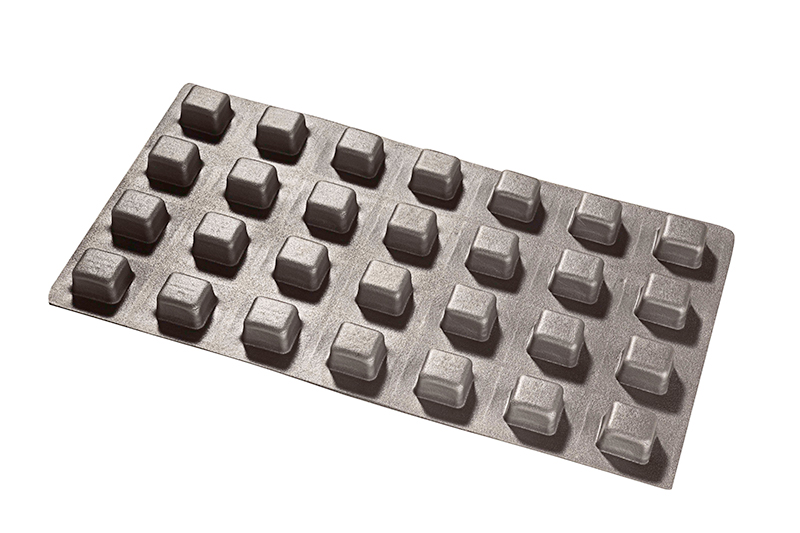 Vacuum-formed pieces
Pieces to form watertight, protective barriers, etc. It's profile is defined by a drawing and obtained from thermal conforming molds.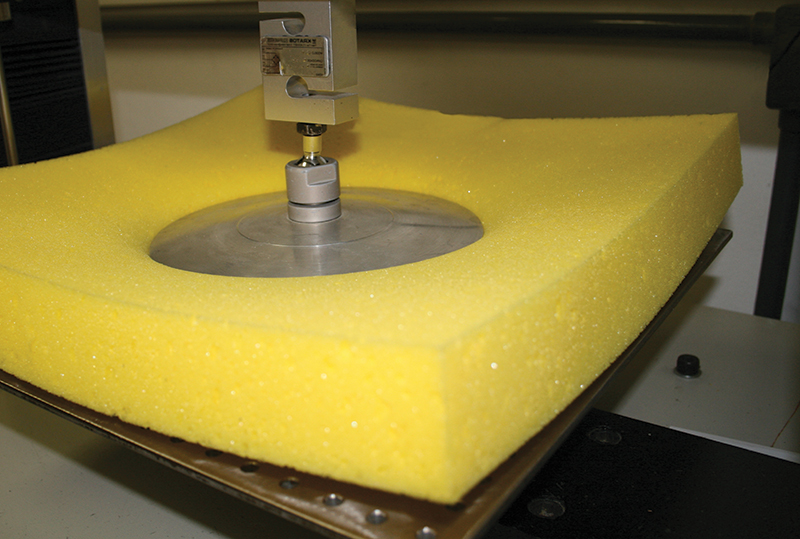 Foams with excellent performance in situations where fire resistance is required. According to the application, specific resistance is needed. For this aim we apply several standards for evaluation of the level of fire resistance required for our foams, among which: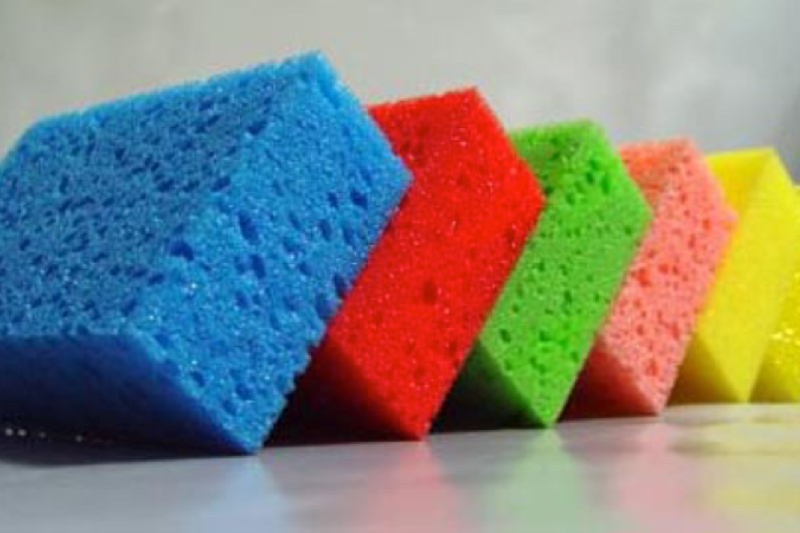 Hygiene and Cleaning
Table of Products with technical data
| | | | |
| --- | --- | --- | --- |
| CODE | CHARACTERISTICS | APPLICATION | DENSITY |
| BAC | PU foam, flexible, ether base with anti-bacterial action | Mattresses, cushions, sofas, sponges, shoe wear, impregnation & filters | 16 to 100 Kg/m³ |
| AG | PU foam, agglomerated | Chocks, pieces requiring strong support, orthopedic mattress, tatamis | 80 to 230 Kg/m³ |
| CA | PU foam, flexible with open cells | Anti-noise application, fillings, printer cartridges, air filters | 16 to 45 Kg/m³ |
| CF | PU foam, flexible with closed cells | Anti-noise application, chocks, acoustic insulation, loudspeaker contours | 16 to 45 Kg/m³ |
| DB | PU foam, flexible, ether base for flame bonding | Flame lamination with fabric | 18 to 45 Kg/m³ |
| EBC | PU foam, flexible, ether base with low resilience | Foam for shoe ware, mattress filling and contours | 23 to 35 Kg/m³ |
| EE | PU foam, flexible, esther base | Flame lamination with fabric | 23 to 45 Kg/m³ |
| EECF | PU foam, flexible, ether and esther base with closed cells | Automobile, aviation, toys and packaging applications | 60 to 120 Kg/m³ |
| EEUL | PU foam, flexible, ether and esther base, UL-94 HF-1 Standard | Anti-noise and chock application, noise insulation | 28 to 45 Kg/m³ |
| EG | PU foam, flexible, esther base with large cells | Paint rollers, cleaning sponges, filters, among other | 18 to 28 Kg/m³ |
| EM | PU foam, flexible, ether base, sea sponge type | Paint rollers, bath sponges | 20 to 30 Kg/m³ |
| EMR | PU foam, flexible, ether base, sea sponge type | Paint rollers, bath sponges | 20 to 30 Kg/m³ |
| EMUL | PU foam, flexible, ether base, sea sponge type | Anti-noise, chocks, acoustic insulation | 23 to 30 Kg/m³ |
| EPP | Expanded polypropylene | Shocks, shock absorbers, packaging, hardhats, thermal insulation | 21 to 80 Kg/m³ |
| ES | PU foam, flexible, esther base with large cells | Paint rollers, sponges for filter cleaning | 23 to 70 Kg/m³ |
| HR | PU foam, flexible, ether base with high resilience | Mattresses, upholstery, armchairs | 28 to80 Kg/m³ |
| HS | Hyper soft | Mattresses, upholstery, armchairs | 18 to 28 Kg/m³ |
| RR | PU foam, flexible, ether base, solvent resistant | Colchões, estofados, bicamas e poltrona | Mattresses, upholstery, stacking beds and armchairs |
| RS | PU foam, flexible, ether base, solvent resistant | Pieces in contact with organic solvents, soaps or detergents | 23 to 28 Kg/m³ |
| SKAS | PU foam, flexible, ether base, with strong support | Anti-noise and chocks, mattresses, upholstery, stacking beds | 14 to 33 Kg/m³ |
| SKBR | PU foam, flexible, ether base, with low resilience (viscoelastic) | Hospital mattresses, upholstery, upper layer of mattresses, shoulder pads | 40 to 100 Kg/m³ |
| SKCL | PU foam, flexible, ether base, California standard | Upholstery, mattresses and armchairs | 23 to 45 Kg/m³ |
| SKUL | PU foam, flexible, ether base, UL-94 standard | Anti-noise, chocks, acoustic insulation | 18 to 45 Kg/m³ |
| SK | PU foam, flexible, ether base | Anti-noise, chocks, mattresses, upholstery, toys, cosmetics, shoulder pads | 14 to 100 Kg/m³ |
| SKUV | Foams with UV-Ray protective additive | Footwear, bra cups, shoulder pads | 18 to 100 Kg/m³ |
| SS | PU foam, flexible, ether base, super soft | Pillows, soft contact layers of cushions and upholstery | 18 to 28 Kg/m³ |
SANKO ESPUMAS 2019 | ALL RIGHTS RESERVED